Peintures Numériques - Subjects of The Kingdom
J'ai créé sur Photoshop une interprétation "pop-art/expressionniste/colorée/fun-tragique" de la fameuse peinture de F.X. Leyendecker - 1922 "The Flapper" (peinture pour le n° 2-2-1922 de la couverture du magazine Life).

J'ai exagéré les couleurs et mis du maquillage sur le masque africain. Cet hommage essaie de recréer un nouveau personnage à partir de l'original. 
Il s'agit là d'un geste techno/trash/moderne-primitif en peinture qui tente de recréer, dans un contexte historique des années 20, la vie tumultueuse, étrange et intéressante d'une héroïne.

Elle a le contrôle de sa vie et s'en délecte, pour le plaisir mais aussi pour des raisons noblement humaines.
Elle possède une patte d'oiseau qui ressemble à une queue de sirène, de sorte qu'elle peut aussi bien nager que voler. Elle est une muse, c'est son super pouvoir ! 
°°°°°°°°°°°°°°°°°°°°°°°°°°°°°°°°°
I made on photoshop a pop-art/expressionist/colorful/tragic-fun" interpretation of a famous painting of F.X. Leyendecker - 1922 "The Flapper" (painting for 2-2-1922 Life cover). 

I exaggerated the colors and even put some make up on the african mask. This hommage tries to recreate another character from the original one. It's like a techno-trash-modern-primitive painting intention to imagine lots of different stories happening in the twenties, with that character who could have a very strange and interesting life.

She's a person who takes control of her life and enjoy it a lot, but also, makes it for serious and human reasons.
She's got a bird's leg that looks like a Mermaid tail so she can either fly or swim. She is a muse, that's her super-power !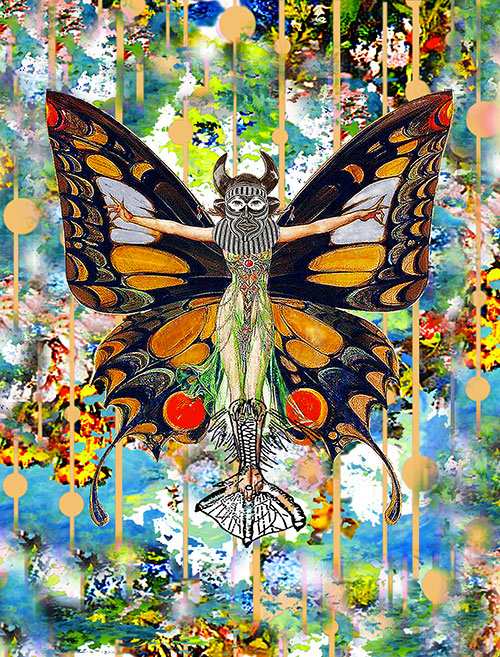 1 - The Magician Muse
Tirage numérique - Dimensions variables - 2020